Football is one of the few things that can turn seemingly rational people into deluded jokers that cannot be taken seriously. After Manchester City won the 2017/2018 Premier League season, whilst picking up the Carabao Cup along the way, they all came out the woodwork.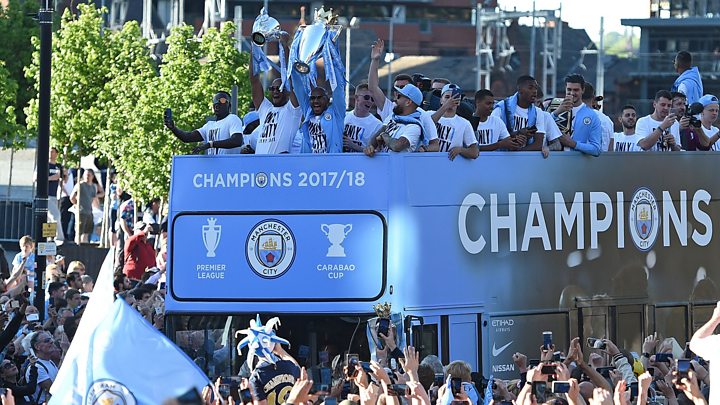 Arsenal's "invincible" team is the main contender
When people talk about best teams ever, they usually bring up the Arsenal team that played 2003/2004.
That team went on to win 26 games, drawing 12 and taking no losses.
The achievement was special then and it is special now, but everything has to be taken into context.
This is a points game, simple as that
The League is determined by points, the team that accumulates the most is the winner. There is no special award for the manner in which those points are earned.
Manchester City totalled 100 points, the most in the history of English top-flight football. Anyone looking at this objectively can see that this fact alone would make them the best team ever.
Picture this
Usain Bolt is the best sprinter of all time. He currently holds the record for the 100m and 200m.
Over the course of his many track seasons, he has taken many losses. Most famously was to his fellow countryman Yohan Blake in 2012.
Despite these losses, he went to the 2012 London Olympics and won gold medals in every event he competed in.
Now imagine someone arguing that another sprinter went an entire track season unbeaten so they are the best sprinter ever. That would instantly be dismissed as nonsense.
They would be asking us to ignore the fact that Bolt has run the fastest times in the history of the sport.
This is what Manchester City's detractors are asking us to do. Ignore the fact that the team that has scored the most points, scored the most goals and won by the biggest goal difference in history is not the best team.
Purely because apparently one line on the statistics sheet; loss, is worth more than all those achievements combined.
Arsenal had 12 draws
Let us not rewrite history, that Arsenal team had a draw in 33% of their games that season.
This is not to mention all those 1-0 victories they squeezed out in the 2003/2004 season . That team was great, but at no point was it playing football as great as Manchester City played this past season.
Arsenal played in a tougher era is also nonsense
Every 10 years football fans claim the generation before had it harder. The argument that football was tougher in 2003 makes no sense as the team that played in 1993 can dismiss Arsenal's achievements as well.
Likewise, the team that played in 1983,1973,1963 etc. Football is football, it evolves and there is nothing we can do about it.
Are Messi and Ronaldo any less great because they play in this modern era and make big money compared to older generations? nope.
CHAMPIONS! 🏆#CENTURIONS #mancity pic.twitter.com/GXinEStjbA

— Manchester City (@ManCity) 14 May 2018
Manchester City does not have a lot of friends in the media
If Manchester United or Liverpool achieved the same results, there would be no question as to who is the best team ever.
Gary Neville and the other ex-united players will ensure that. Not to mention Liverpool and their bastion of ex-players turned commentators.
They do not need to win multiple seasons to be the best.
Teams change on a season by season basis. Players come and go all the time, so how would you need multiple seasons to know which single season was the best?
If Aguero, Silva, Toure, De Bruyne leave City in the summer, how can the new players be judged as apart of an achievement they played no part in? a completely asinine argument.
Manchester City fans need to step up and be brave. They need to reject the arguments that are being used to diminish their accomplishment.
Pep Guardiola's 2018/manchester City team is the best team to ever play in top flight English football, no amount of mentaly gymnastics will change that.